Juggling is easier when you learn patterns. They start easy and get very complex.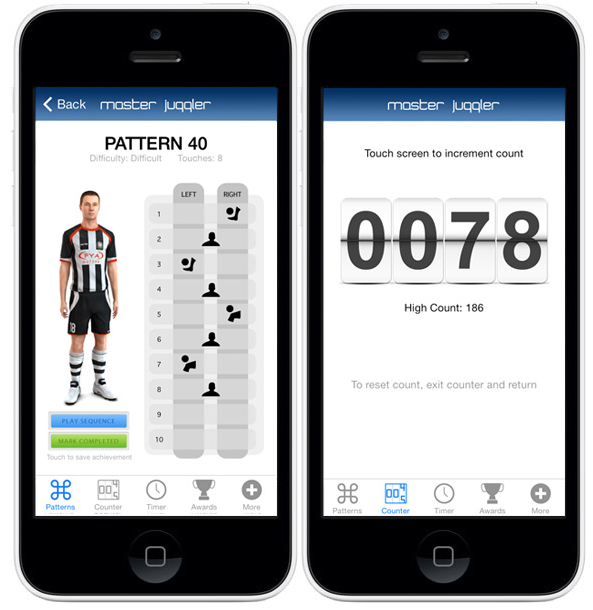 Master Juggler is a tool to help you master the seemingly difficult task of juggling a soccer ball. Use Master Juggler to help you keep track of your juggling progress. The Counter simply helps you keep track of the number of touches on the ball. Either you or a friend can increment the counter by hitting the screen. The Timer runs while you juggle. Set the amount of minutes, start the timer, and start juggling. It will notify you when your time is up. Learning Patterns makes your job easier. Simply follow the patterns supplied. When you can consistently complete each pattern, start doing two different patterns in a row, then three, then four, etc… All of your progress is saved in the Achievements section for review. Earn awards for your juggling accomplishments: Amateur Award, Silver Cup Award, Gold Cup Award, Grand Cup Award, Master Juggler Shield, and Master Juggler Crown.
The heart of this app is the 48 patterns/sequences that challenge you to control the ball multiple juggles in advance. For instance, pattern 3 is Right Foot, Right Foot, Left Foot, Left Foot, Right Foot, Left Foot. Mastering this pattern teaches you to control the ball in a way that your touch needs to set up your next touch or you won't be successful. Each pattern ends on catching the ball. This ensures that your last touch on the ball was a controlled touch and not just contact on the ball.
Also, rather than simply counting 100 touches on the ball, you can perform this pattern 17 times and pass 100 touches. This makes the thought of trying to keep the ball in the air for over 100 touches much easier. You can also memorize the patterns and perform them together.
---
iPhone Screen Shots
---